Angela G. Reyes, MPH, Executive Director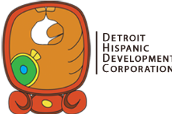 In 1997, Angela Reyes founded the Detroit Hispanic Development Corporation, a community-based organization, from her living room because she "was tired of burying children." To reduce the violence, DHDC's Gang Retirement and Continuing Education and Employment program (GRACE) formed after forging a truce with leaders of rival gangs, which encouraged "retirement" in return for jobs in local Hispanic-owned manufacturing companies.
DHDC's mission is to make a difference by creating life-changing opportunities for youth and their families. They are committed to meeting the needs of the community by providing quality, innovative and culturally appropriate services, primarily in Southwest Detroit.  Their vision is to create a stable and safe community where youth and families have quality opportunities for self-empowerment, education, and personal wealth.
DHDC is an organization that focuses on youth and families, particularly those at high risk, in relation to  juvenile  and criminal justice; gang prevention; HIV prevention; community services and polices supporting these areas of interest. DHDC provides a range of community services including adult continuing education, conversational Spanish classes, parenting classes, and after-school and summer programs for youth. HIV prevention services are offered through their Comadres program as well as on-site testing and counseling services.  Freedom Ink Tattoo Removal is another of DHDC's programs which aims to help former gang members re-enter the workplace by providing tattoo removal, a recognized barrier to employment.
Website | Email | Phone: 313-967-4880
Research Areas: Youth Development & Engagement, Family Health, Community Organizing, Community Development, Education, HIV/AIDS, Violence Prevention, Latinx Populations,